noticia
Last week took place the Transformation Lab, hosted by the University of Western Brittany. The Transformation Lab consisted of a series of hybrid and face-to-face activities aiming at understanding how researchers working for the European University of the Seas engage with their surrounding stakeholders and improving the environmental, socio-economic sustainability of their educational and research activities.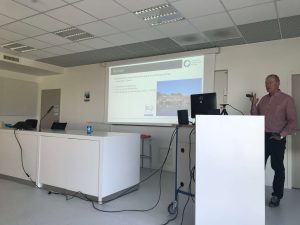 The Transformation Lab kicked off on Tuesday 26 April a set of presentations and discussions around various projects that federate stakeholders and researchers for a sustainable future of their socio-ecosystems. The recording of these presentations, which were delivered in hybrid format, will be made available soon.
On the second day (27 April), participants had the opportunity to make several on-site visits. The first stop was at the Pointe de Dinan, where they met with Sophie Coat, the manager of the Reserve Géologique de Crozon. They discussed the work between the Reserve and the scientists to study the erosion of the coast, and installed together sensors to better understand the erosion of the site. This will help the Reserve to adapt the management of these sites.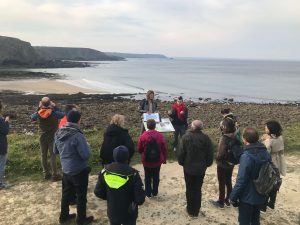 Then, they visited the farm Le Parc in Rosnoën which is located close to the Aulne river. Together with scientists, EPAGA and the farm have been working on a project to preserve the water quality of the Aulne River. They identified pollution sources from the farm and have implemented new measures to limit water runoff from the farm directly into the Aulne river.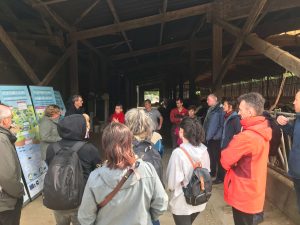 After that, participants had the opportunity to go to the Tinduff hatchery. For 40 years, the Tinduff hatchery has been cultivating scallop spat, a species that has become rare in the Bay of Brest. Their activity aims to maintain the stock of scallops in a sustainable way, from La Rochelle to the North of France. They work together with scientists and professional fisheries committees.
Finally, the last visit consisted of a presentation of some of the PNRA activities located in the Bay of Brest. Their action aims at preserving and restoring the fauna and the flora, while interacting with professionals and inhabitants in this territory.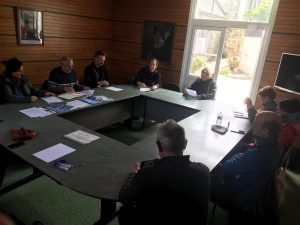 The morning of the third day (28 April) was dedicated to the visit of the Marine Park of Iroise, commented by the head of the park, who presented the different species that coexist on this territory and explained the challenges of conserving natural spaces while reconciling human activities on the islands. Dolphins, seals, northern gannets and other birds joined then during this trip to the Molène island. After the visit of the Museum on the insular environment, the participants shared experiences of transdisciplinarity (research in connection with stakeholders) based on concrete examples they have experienced.
Through the Transformation Lab, the European University of the Seas gave one step forward to engaging and strengthening ties with the many societal actors that surround them as well as their coasts and ecosystems.