The reSEArch-EU Project (reinforcing SustainablE Actions, resilience, cooperation and harmonisation across and by the SEA-EU Alliance) is an initiative of the European University of the Seas (SEA-EU), an alliance of six coastal European universities which share research interests and a commitment to integrate their infrastructures and harmonize their functioning to thrive and adapt to today's changing world.
With this project, the SEA-EU partners joint efforts to develop successful practices and cooperation models in research and innovation by:
building an anti-fragile (beyond resilient and robust) and innovative pan-European Alliance;
aligning our expertise and resources with the needs of the production system;
co-designing, co-creating and co-delivering knowledge with and for stakeholders and citizens;
establishing a common Open Science and Open Research Data Policy;
crafting and developing a common multi/ inter/ and trans/disciplinary research agenda that contributes to sustainable development and growth;
sharing our critical analyses and best practices for the successful implementation of our research and innovation strategies with other 'European University' Alliances.
The achievement of the goals established for the reSEArch-EU Project rests on a three-pillar methodological approach that intends to transform research collaboration in the SEA-EU Alliance. This approach consists of three non-linear phases: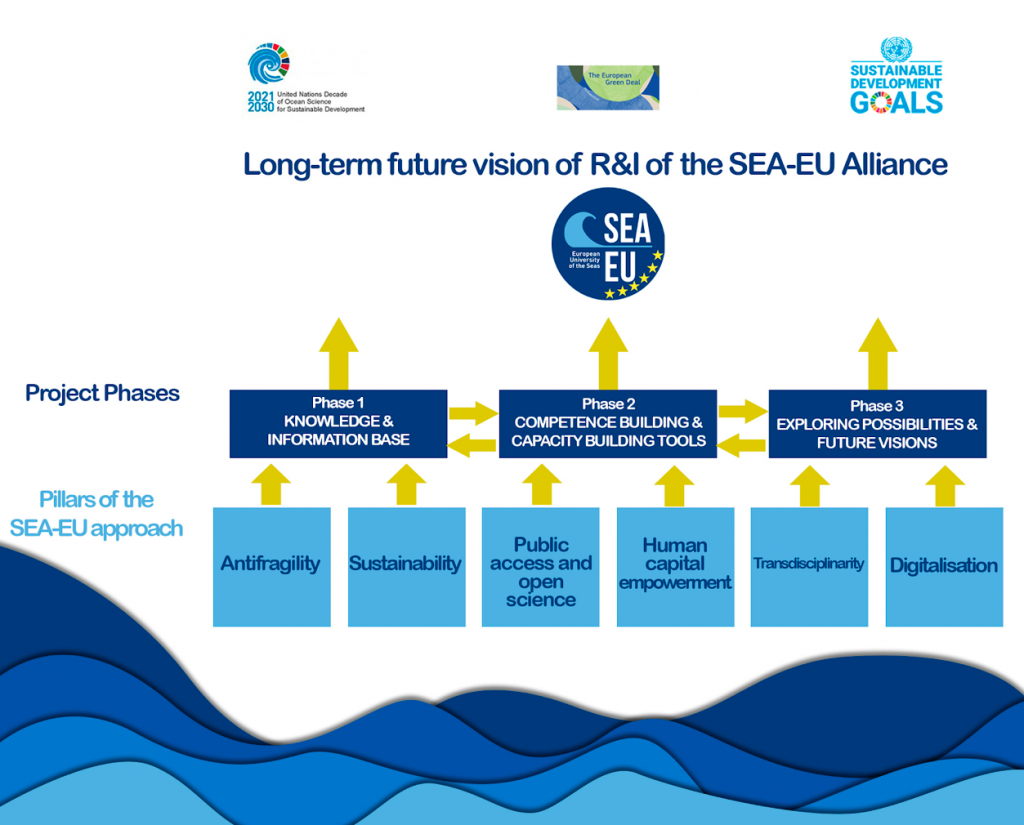 Firstly, partners will build knowledge and an appropriate information database related to the existing potential in Research and Innovation (henceforth, R&I) and to research-based education of the alliance. In doing so, partners may establish a solid base for data sharing, and will pay special attention to:
Common challenges.
Goals.
Future actions.
Secondly, partners will carry out a process of competence building and will create capacity building tools, with the aim of strengthening human capital and spread best practices to obtain the best from the resources invested in the Project. This process may include activities such as:
Virtual and face-to-face workshops.
Training.
Meetings.
Events with external stakeholders from business and the civil society.
Pilot activities to generate new knowledge, to strengthen research collaboration among partners and improve relations between academia and the public.
The development of digital tools that may help to facilitate data sharing within a cost-efficient, safe environment.
Thirdly, partners will explore possibilities and develop future visions. The establishment of a long-term SEA-EU research agenda is essential to produce a durable, sustainable impact on collaborative research among partners. This can be achieved by implementing activities such as:
The development of think-tank activities.
The integration of the principles of anti-fragility, sustainability of R&I practices and open science developed in reSEArch-EU as basic commitments of the SEA-EU Agenda for R&I.
This way, the specific objectives of the reSEArch-EU Project can be integrated with the efforts and long-term strategy and goals of the SEA-EU Alliance.